Order of battle IRGD, 10th May 1940
---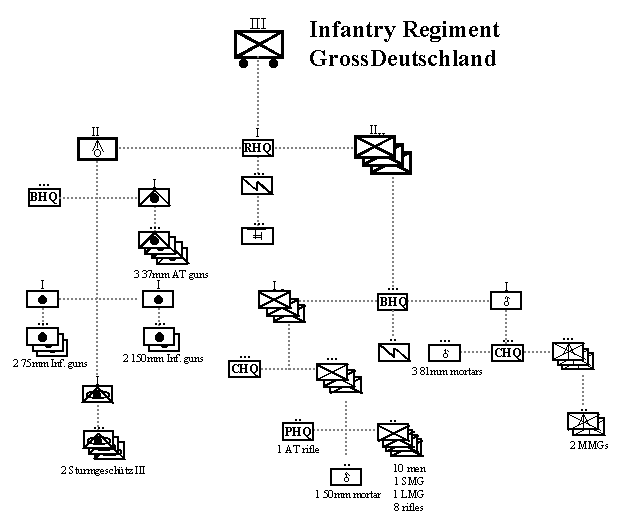 The Infantry Regiment GrossDeutschland was probabbly (together with the Leibstandarte Adolf Hitler) the most powerful motorized infantry of the German Army on May, 10th, 1940. Each infantry platoon had 4 combat squads and an AT rifle. In addition to the 3 infantry battalions, the I.R.G.D had a heavy weapon battalion instead of an heavy weapon company. This 4th battalion had:
- one light infantry gun company (13th company) with 6 75mm infantry guns
- one anti-tank company (12th company) with 12 37mm AT guns
- one heavy infantry gun company (15th company) with 4 150mm infantry guns
- one assault gun company (16th company) with 6 Sturmgeschutz StuG III (in May 1940, the StuG III is an experimental tank and only 3 units had been issued with a battery of 6 StuG II for combat testing of the new material).
In addition, the I.R.G.D had received a motorized assault engineer battalion: SturmPioneer Abteilung 43 with 3 assault companies and 1 bridge company.

IRGD
(Graf v. Schwerin)
Nachschubkolonne
Nachrichtenzug
Kradzug
Musikzug
I Abteilung
(Föllmer)
1 kompanie (Schwarzrock)
12 le MG
3 le GrWf
2 kompanie (Kolb)
12 le MG
3 le GrWf
3 kompanie (Fabich)
12 le MG
3 le GrWf
4 kompanie (Hänert)
12 s MG
6 s GrWf
II Abteilung
(Föst)
5 kompanie (Schneider)
12 le MG
3 le GrWf
6 kompanie (v. Courbière)
12 le MG
3 le GrWf
7 kompanie (Wackernagel)
12 le MG
3 le GrWf
8 kompanie (Bethke)
12 s MG
6 s GrWf
III Abteilung
(Garski)
9 kompanie (Westphal)
12 le MG
3 le GrWf
10 kompanie (v. Harder)
12 le MG
3 le GrWf
11 kompanie (Krüger)
12 le MG
3 le GrWf
12 kompanie (Grosser)
12 s MG
6 s GrWf
IV schweres Abteilung
(Schneider)
13 kompanie (v. Massow)
6 le InfG 7.5cm
14 kompanie (Beck)
12 Pak 3.7cm
4 le MG
15 kompanie (März)
4 s InfG 15cm
16 kompanie (v. Egloffstein)
6 Sturmgeschutze 7.5cm
Luftlandeunternehmen NIWI in green.